www.magazine-industry-usa.com
Written on Modified on
GE VERNOVA UNVEILS NEW AI-POWERED SOFTWARE TO MORE RELIABLY MAXIMIZE USE OF RENEWABLE ENERGY
The new software is designed to enable power utilities to accelerate carbon reduction targets with existing assets, all while preserving their ability to reliably meet demand.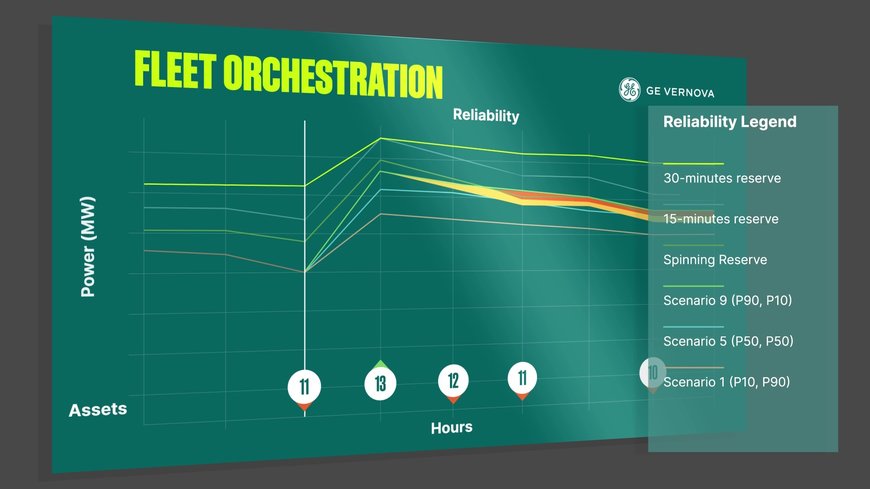 GE Vernova's Digital business announced the release of Fleet Orchestration, a new software solution designed to help power utilities successfully maximize the use of renewable energy. The software helps make it possible to accelerate carbon reduction targets with existing assets without sacrificing the ability to reliably meet demand. This news comes less than two months after the company announced the limited release of CERius™, its new carbon emissions management software.
Fleet Orchestration
is a modern energy solution that uses artificial intelligence (AI)/machine learning (ML) and advanced modelling. Designed for vertically integrated utilities—those that generate, transmit, and distribute power—it allows for the seamless incorporation of renewables with existing assets.
The software has several key features, including its Performance Predictions and Unit Commitment Optimizer modules. Performance Predictions, previously only available for thermal power generation, is now available to provide renewable energy predictions. The module automates these predictions for various time intervals ranging from 15 minutes to weekly for each unit, block, and plant within the fleet. The new Unit Commitment Optimizer uses a fast-running stochastic model—one that's beneficial when variability is present—to provide probabilistic insights for planning, as well as real-time recommendations when conditions change, on how to best navigate the uncertainty of matching generation and demand. These recommendations help with setting appropriate reserve margins and maximizing the use of renewables while still preserving reliability. Both factors can have a big impact on a utility's carbon footprint.
The importance of setting appropriate reserve margins was highlighted in a study released by ISO New England last year. The study concluded that to reach 56% renewables use, the reserve margin—how many extra resources are needed to keep the system reliable in times of stress—may need to increase from 15% to 300% by 2040. Fleet Orchestration can reduce a utility's need for excess fossil fuel reserves as it increases their confidence in their renewable energy strategy.
Another key feature of Fleet Orchestration is that it easily integrates with GE Vernova's GridOS
®
Advanced Energy Management System (AEMS). GridOS, announced by the company earlier this year, is the world's first software portfolio designed specifically for grid orchestration. Together, forecasting, unit commitment, and grid orchestration software can help when it comes to meeting demand and ensuring stability of the grid in the most cost-effective and sustainable way.
www.ge.com