www.magazine-industry-usa.com
Written on Modified on
JPB Système Witnesses Significant Lead Time Reduction and Weight Saving Benefits From Continued Trials of Additive Manufacturing
JPB Système, the leading manufacturer of efficiency-enhancing technology solutions for aerospace, aeronautic and other industries, has reported extremely positive results from its continued research into the benefits and application possibilities of additive manufacturing (AM) technology.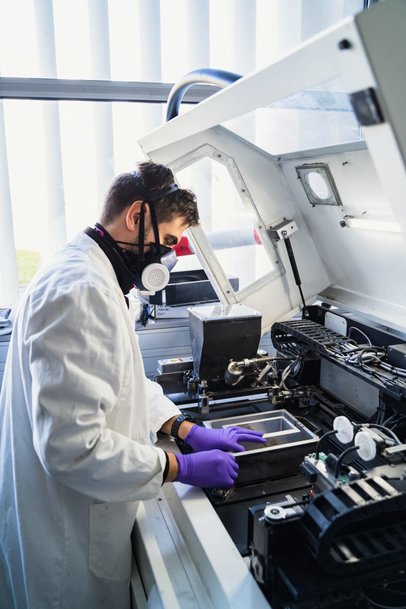 JPB Système's trials of additive manufacturing technology have seen it cut overall lead times by 80% on some parts, and secure weight-savings of 30%.

In some trials, this has seen the France-based business cut overall lead times by 80% on some parts, and crucially, secure weight-savings of 30% - a fundamental objective for aerospace customers.
The company – which serves the likes of Safran, Pratt & Whitney, GE and Rolls-Royce – has been trialling industrial-grade metal binder jetting (MBJ) AM technology for several months as part of its ongoing objective to ensure greater efficiency and agility across its production operations.
The results of trials with MBJ technology to potentially produce flight-ready parts, are meeting expectations by delivering robust lighter-weight alternatives quicker, easier and more cost-effectively than traditional manufacturing methods such as machining and casting. Leveraging this AM technology, the company is also able to create highly complex products with new geometries, further streamlining production efficiencies by removing the need for assembly.
Reduced lead times accelerate time to market

"As we anticipated, our trials of MBJ technology underscore how its versatility and ability to reduce time and costs offer huge benefits for us as a company and for our customers," explains Jocelyn Vecchio, Director of Engineering and Innovation at JPB Système.
"Such production efficiencies are evidenced if we compare the technology to the typical method of producing parts via casting in a foundry," he adds. "As well as having limitations insofar as the geometries achievable, this involves expensive tooling that can entail long lead times of around six months – even longer if geometries change and a new mold is required. In contrast, using MBJ additive manufacturing, we could produce the same part in about four weeks; that's a decrease in time of more than 80%, which ultimately means we speed up delivery times to customers. The flexibility of this technology also means that, it doesn't take any longer to produce 100 different parts than it would 100 identical parts."
Another vital attribute for JPB Système is the technology's ability to create parts that are much lighter than metal alternatives. Via solid yet hollow bodies and tough lattice structures, test parts developed by JPB Système match the durability of traditional metal variants but use much less material. This has seen the company enjoy weight savings of 30% in some cases.
"This is an important tick-in the-box for OEM customers and those further up the supply chain who are constantly seeking to reduce the overall weight of the aircraft," adds JPB Système Research Engineer, Benjamin Sangouard. "A lighter aircraft means less fuel, which means less cost and reduced emissions, which is of course important from a sustainability perspective."
Continues Benjamin, "The sustainability factor is further demonstrated by the on-demand manufacturing principle of AM that enables companies like us to produce what is needed, when it is needed, rather than traditional techniques that obligate long production runs just to ensure cost-effectiveness. This would give us greater flexibility and reduce the need to store large quantities of stock."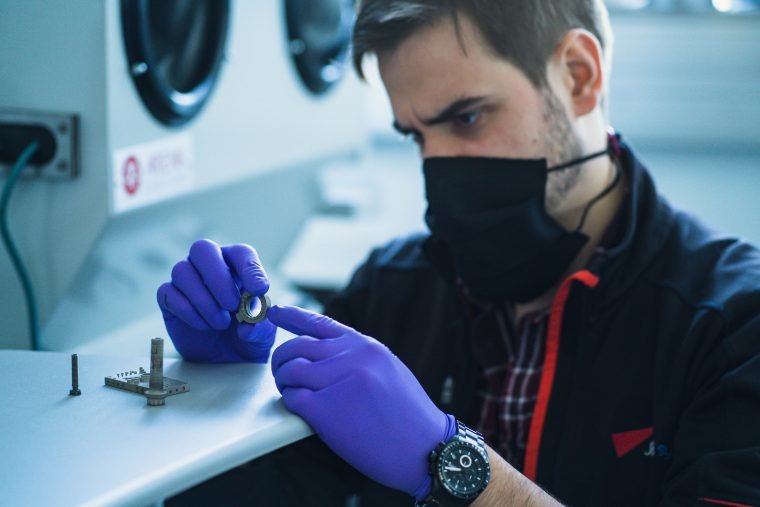 Additive manufacturing's ability to create parts that match the durability of traditional metal variants, while using less material, has seen JPB enjoy up to 30% weight savings.

Improved design possibilities

JPB Système also benefits from the way in which AM allows the company to leverage greater design freedom to produce complex products much more easily. This includes the consolidation of two parts into one, or products that accommodate one element inside another – something not typically achievable with conventional manufacturing techniques.
In one example, this allowed the team to produce an assembled multi-component functional system that offers multiple advantages by incorporating three components into one. Thanks to a reduced number of parts, the supply chain is simplified and assembly time is removed. Also, from a safety aspect, the eventuality of foreign object damage to the engine, while fundamentally an unlikely eventuality, is all but eliminated.
For Jocelyn Vecchio, this ability to leverage AM to develop more advanced products with fewer parts, could also increases JPB Système's strategic competitiveness with new patents.
"So far, our exploration into the application possibilities of MBJ have proved very successful and offer significant potential in our quest to innovate our production processes to better meet the needs of our customers," he concludes.
JPB Système is set to open a new start-of-the art facility in Villaroche, south of Paris in 2023, which is partly government funded through an initiative designed to accelerate industry growth and help manufacturing companies. The eventual integration of additive manufacturing technology, and other disruptive innovations that enable the Industry 4.0 concept, will underpin the new facility's automated production lines once operational.
www.jpb-systeme.com