www.magazine-industry-usa.com
Written on Modified on
DATALOGIC DELIVERS INTELLIGENT VISION FOR SUPPLY CHAIN SOLUTIONS
Datalogic will showcase intelligent vision solutions for your entire supply chain needs during this year's ProMat show at McCormick Place in Chicago on March 20 – 23.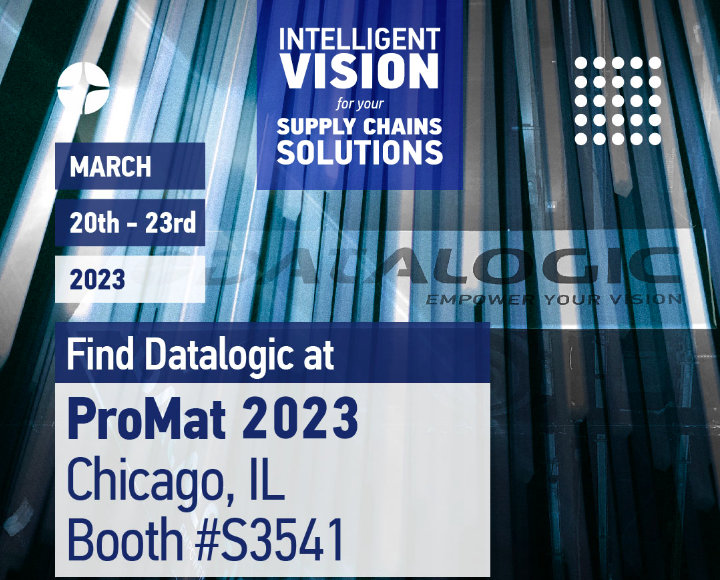 Joining over 1,000 of the world's leading manufacturing and solution providers, Datalogic will welcome visitors into booth S3541 to experience live demos of Datalogic's offerings that bring intelligent vision to your complete supply chain needs. Datalogic sensors and vision systems track parcels and shipments as they move from the manufacturer, through the distribution centre and warehouse to the carrier.

Datalogic technological solutions and demonstrations being shown in booth S3541 will include:
Matrix™ Series: The Matrix Series consists of high-performance image-based ID scanners, designed for industrial parcel and object traceability in all factory automation applications, intralogistics, and logistics industries.
Matrix 320 5MP: The Matrix 320 5MP is the new image-based barcode reader developed by Datalogic to solve traceability applications in intralogistics, distribution centres, 3PL, e-commerce, and retail logistics.
PowerScan™ 9600: The PowerScan 9600 Series is the top-performing industrial handheld scanner with an ultra-rugged industrial design. Unmatched 1D/2D, postal code, OCR, DotCode, and Digimarc symbologies reading performance.
Skorpio™ X5 XLR: The Skorpio X5 XLR mobile computer offers a choice of linear imagers, standard 2D imagers, Mid-Range imagers, and the unparalleled 2D near-far high-performance Extra-long Range (XLR).
Mass Flow Detection System (MFDS): MFDS is Datalogic's advanced solution that enables automated data collection for non-conveyable parcels.
WebSentinel™ PLUS Investigator: The WebSentinel PLUS is a very advanced monitor and information collector. It offers key features, benefits, and insights to end users and system integrators specializing in factory automation and transportation and logistics.
Memor™ 11: Preview the Memor 11 mobile computer with enhanced processing capabilities, up-to-date operating systems, and superior scanning performance, whose versatility enables the mobile workforce to meet the needs of the most common retail, warehouse, manufacturing, and transportation and logistics applications.
Visit Datalogic in booth S3541 from March 20 – 23.