www.magazine-industry-usa.com
Written on Modified on
Italy-based, high-end luxury pen manufacturer, Pennaio, has leveraged Stratasys' multi-color, multi-material J-Series PolyJet 3D printing technology to relaunch the historic brand, Duchessa 1935, with a line of vibrant new 3D printed fountain pens.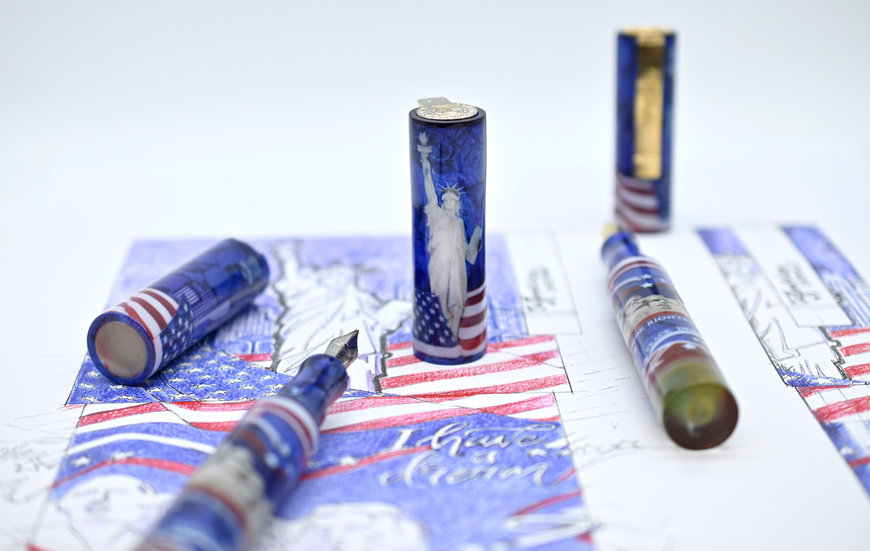 Stratasys' 3D printing technology enabled Florenradica and Il Pennaio to create a host of innovative 3D printed designs to relaunch the iconic Duchessa 1935 brand. One such example is The American Dream, produced in 76 pieces

High-end pen manufacturer, Il Pennaio, teams with fashion industry experts, Florenradica, to relaunch historic brand with new 3D printed designs
Unique and innovative 3D printed designs drive record sales for Il Pennaio and bring about landmark partnership with leading European retailer
Having teamed with Florenradica, parts and accessories manufacturer for high-end fashion, to develop and produce the eye-catching designs, the new product-line has already seen landmark success, delivering an influx of new customers to Il Pennaio and boosting sales figures. As testament to the quality and success of the new 3D printed designs, the company was swiftly selected as a partner for one of the biggest pen retailers in Europe, La Couronne du Comte, just weeks after the new collection went to market.

Now almost a century on from its inception, Duchessa 1935 has historically been heralded industry-wide as one Italy's most prestigious brands, before closing its doors in 1958. Intent on reviving the iconic name and giving it a modern edge, Il Pennaio set about pushing the boundaries of current pen-making techniques to create a number of stand-out, contemporary designs and juxtapose Duchessa's traditional background.

Unique J-Series 3D printing technology unlocks creative opportunities
According to Fabio Moricci, Co-Owner, Il Pennaio, the new designs – featuring vibrant colour combinations and intricate patterns – would have been unachievable even with other 3D printers – let alone via traditional manufacturing methods. With Stratasys' 3D printing technology, Moricci sees new possibilities for product design market-wide.

"Testing the same designs, other 3D printers weren't able to produce results that were even near comparable; we truly believe Stratasys is the only provider that can deliver the exceptional quality that luxury, high-end brands demand", Moricci explains.

This, he believes is important, because the luxury pen market typically tends to see the same resins across the board, all of a similar structure. As a result, of all the key suppliers to whom the industry's big brands can turn, the only differentiating factor is aesthetics.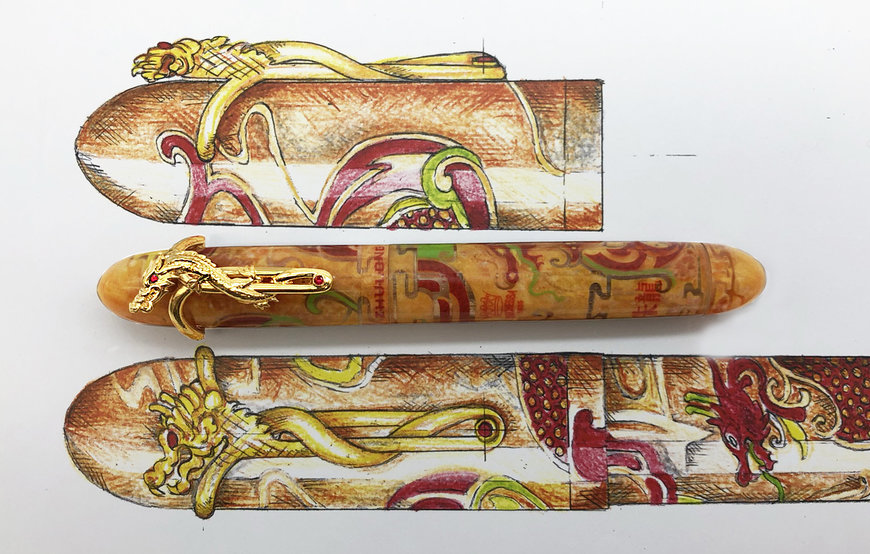 The Zhulong fountain pen – 88 pieces – features very special colour shades and effects. Each pen in the Duchessa 1935 range was designed and produced on-site in Florence, utilizing one of Florenradica's two Stratasys 3D Printers

"Stratasys' resins are completely different and novel for this market, opening up new possibilities and changing the way in which we approach design," he continues. "By fully exploring the color and material combinations made possible with Stratasys' technology, we have been able to deliver something fresh, exciting and truly innovative, revitalizing a market which has previously felt stagnant."

As well as creating new design possibilities, the fundamental versatility of 3D printing has also unlocked entirely new opportunities for Il Pennaio and Florenradica, making it possible – and critically, profitable – to create small quantities or even single units of its designs.

Thanks to the ability of Stratasys' J-Series 3D Printer to quickly and easily create multiple parts within a single print job, this now opens the door to customization, limited editions and one-off pieces – something unachievable with traditional resin casting.

"The Duchessa 1935 project presented a double-headed challenge, both in manipulating colors and materials to create innovative and visually impactful designs, and in creating a functioning object with mechanical parts that actually work," comments Raffaella Grandi, Regional Channel Sales Manager, Stratasys.

"From a design perspective, this required levels of sophistication and precision beyond Florenradica's typical creations in the high-end fashion arena, where the key focus is on aesthetics rather than mechanics and functionality. However, the challenge was gladly accepted and, with the dynamic combination of Stratasys' technical knowledge, Florenradica's design expertise and Il Pennaio's industry insight, one we were able to confidently fulfil."

With subsequent collections still to come, the first collection in the Duchessa 1935 range is available now and comprises 250 pieces, each designed and produced at Florenradica's Florence headquarters utilizing the company's Stratasys J-Series PolyJet 3D printing technology.

A longstanding Stratasys partner, Florenradica recently added a Stratasys J850 3D Printer to its operations, bolstering the company's capability to create ultra-realistic prototyping and specialized final parts.

"Having worked with Stratasys for a number of years, we approached this venture already confident in the capabilities of the company's technology - even for the most challenging of design projects such as this one," concludes Florenradica's Katia Stanzani. "We are very proud to have played a part in this project, which has brought the historic Duchessa 1935 brand into the modern day, changed the trajectory for Il Pennaio, and breathed new life into the industry."

www.stratasys.com